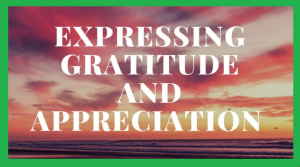 "It's finally the end of the year and many of you are reflecting on Company achievements. As you review Company goals, are you taking the time to see how your employees helped contribute to your success? Do you feel you have a highly rated work environment? If you are unsure of your answer, according to an article in the Wall Street Journal a few weeks ago, "Happy workers not only score higher for engagement, productivity, loyalty, creativity, they take fewer sick days and are more likely to help their colleagues."
By sharing your vision, mission and goals with your employees, you enable them to feel empowered in their job, foster a team environment, and promote a positive company culture. Expressing gratitude whether through an email, gift card or award, goes a long way in driving employee happiness. A simple thank you face-to-face with your employee or colleague can make all the difference! Studies have shown that by showing gratitude improves physical and mental health, creates a sense of belonging, strengthens relationships and helps achieve goals.
As you wrap up this year and look towards 2019, express your thanks and gratitude to one another.
Here are some tips for showing thanks and appreciation in the workplace:
Lead by example. Once a leader expresses gratitude, other employees, colleagues and even customers have an example to follow and feel more comfortable sharing.
Make the thank you specific. Don't just say thank you for a job well done. Acknowledge what specifically the employee did.
Be authentic. Always be sincere when saying thank you.
Recognize both big and small accomplishments. All contributions are important no matter how large or small the scope is.
Follow up throughout the year. Saying thank you shouldn't just be around holiday time, but all year long." Allison Lloyd, Recruiting Manager
Wishing you a great rest of the year and a wonderful, successful 2019!